It Turns Out That The Type C Connector Has So Many Uses!
Views: 38 Author: Site Editor Publish Time: 2021-10-25 Origin: Site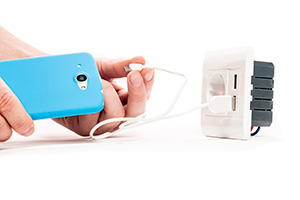 Since LeTV's first USB type c connector mobile phone was launched in 15 years, more and more mobile phones have switched to the Type-C interface, and now everyone is no longer unfamiliar with this interface. However, most people's understanding of this interface only stays at the basic level of "can be plugged in positively and negatively" and "used for charging". In fact, there are many other operations it can achieve.
External USB device
Most phones with Type-C interface only need to plug in a Type-C docking station to connect a mouse and keyboard.
If you need to write relatively long text on your mobile phone, or use office apps such as EXCLE, word, etc., paired with a mouse and keyboard can definitely greatly improve operating efficiency and facilitate mobile office. Computer friends who like to play games can also experience computer-like game operations on their mobile phones.
In addition, a USB flash drive can also be connected through the docking station, which is simply a savior for users who have insufficient mobile phone storage memory. Files that take up space like photos and videos can all be stored in a USB flash drive. After the mobile phone is connected to the USB flash drive, it can be opened and watched directly without occupying the space of the mobile phone.
Support audio transmission
In fact, everyone is forced to know that Type-C supports audio transmission, because more and more mobile phones now use the Type-C interface while canceling the 3.5mm headphone jack. If you want to listen to songs with wired headphones, you need a Type-C converter. The reason why you can listen to songs with the Type-C interface is because it supports audio output and theoretically can improve the sound quality.
Because the 3.5mm interface is an analog output, instead of a custom usb connector, Lightning is a digital output, which can bring a more realistic and high-fidelity audio output. However, there are not many Type-C interface headphones on the market, so the advantage in this respect has not been well reflected.
Support image transmission
At present, in addition to the USB Type-C interface used in mobile phones, electronic devices such as notebooks and hard drives have also begun to use this interface on the market. This is because the USB Type-C interface not only has the function of charging and transmitting data, but also supports audio and video transmission. Function.
Some mobile phones, such as many flagship phones of Huawei, can support the direct Type-C to HDMI cable or docking station to connect large-screen displays and projectors. The screens and videos on the mobile phones can be directly extended to the display for viewing, making the mobile phone change in seconds. PC mode, and does not affect the independent use of mobile phones.
In addition, the mobile phone can be directly connected to the network cable through the docking station to enjoy a faster and smoother wired network.
Because of these advantages, many interface technologies have focused on Type-C, such as Thunderbolt 3 with external graphics cards, and fast charging protocols USB PD, SuperVOOC, and so on. This means that the USB type c connector is likely to become a unified standard interface for various electronic products in the future. In other words, you only need to bring a Type-C cable when you go out in the future to solve the problems of charging, data transmission, audio and video transmission of all electronic devices.